On this page we will add links to sources of information and advice relevant to student mental health and well-being, plus useful resources for parents.
NHS Mental Health Resources for Children and Young People
Here is a document summarising many different services which offer help and advice to young people who may be struggling during the current pandemic:
Information for Children and Young People about mental health and wellbeing during coronavirus
Just Talk
Just Talk Herts held a question and answer session on Instagram last week, which can be found here: https://www.instagram.com/tv/CK3w97DByBf/?igshid=f364xp16pkxw
Please remind your sons that we have Sixth Form Just Talk ambassadors available, and an email address: justtalk@hitchinboys.co.uk  Boys can email for advice at any time.
Just Talk are also organising a student webinar during half term, which they can sign up for here: https://app.livestorm.co/herts-for-learning/hertfordshire-young-peoples-coronavirus-webinar-02-2021?type=detailed
PHASE Hitchin
Local Hitchin charity Phase have just launched their Renew programme, a series of short development sessions that you can do when and how best suits you. The programme has three key parts and aims to help you renew and restore you and others to develop your mental health and wellbeing. Each session should take no more that 30 minutes and there is a specific webpage for each one to make it easier to focus, engage and renew. More information via this link: https://phase-hitchin.org/blog/renew
Letchworth Centre for Healthy Living
Parents who would like to are able to access a weekly drop in mindfulness session on Mondays at 1pm which is run via Zoom. This is open to anyone regardless of previous experience: https://us02web.zoom.us/meeting/register/tJMrd-CtrjgjdmrZ4Ts9_OvlGisfneK4sg
Mental health resources for children, parents, carers and school staff
To mark Children's Mental Health Week, the Department for Education have put together some useful links and sources of support so that children, parents, carers, and school staff can get the advice and help they need. The information can be found here.
EduSafe
EduSafe offer a bank of online resources written by experts that provide information and extra support.
https://www.educare.co.uk/edusafe-cyp
Anna Freud
The Anna Freud Centre have published strategies to help young people manage their mental health and wellbeing. You can access the resources here.
Looking after your mental health during the winter lockdown
Students/parents: this infographic offers some useful tips for looking after your mental health during this winter lockdown.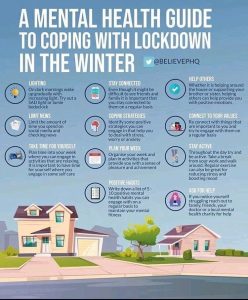 Just Talk
Just Talk is a Hertfordshire scheme encouraging our young people to show strength through talking about their mental health. In 2020 we have taken part in their #JustTalk week campaign, looking at how to cope during challenging times and how to reach out for support if we need it. Their website contains information for young people and their parents and carers. More information at https://www.justtalkherts.org/just-talk-herts.aspx
Healthy Young Minds
Hertfordshire Mind Network (HMN) have launched a new early intervention and prevention helpline for children and young people aged 10-17 in Herts. The helpline will provide a safe, non-judgemental space to talk to a Young People Advisor or Mentor who will provide emotional support, advice and information, signposting and discuss coping strategies. For opening hours and more information please visit the website https://www.hertsmindnetwork.org/young-peoples-helpline
New resources from the British Red Cross to tackle loneliness
The coronavirus crisis has left many of us experiencing increased feelings of loneliness and isolation. Anyone can feel lonely, but the British Red Cross's research with the Co-op shows that loneliness can badly affect young people. They have created some brand-new resources as part of the programme, designed to help develop understanding of loneliness and build confidence, coping skills and connections. The resources can be accessed on their website here: https://www.redcross.org.uk/get-help/get-help-with-loneliness/tackling-loneliness-in-young-people?dm_i=6O59,471G,1ESICZ,HG4J,1##
HCC and the NHS have produced a document, Information for Children and Young People about mental health and wellbeing during coronavirus October 2020, which contains useful links to sources of support.
COVID-19: Looking after your mental health – for young people and their parents and carers includes information for young people on how to keep up to date with what's going on without feeling overwhelmed, and staying mentally and physically healthy
Self-harm in young people includes information for parents and carers on supporting children who may be at risk of self-harming, including how to approach discussing self-harm and when to seek medical help: Self-harm in young people
Coronavirus mental health and wellbeing resources
Healthy Hub North Herts Wellbeing Support
This website provides some useful links to charities and helplines that may be useful to students  struggling with their mental health, and also has a wellbeing digital passport that students can complete to let others know how they are feeling and how people can help.
ParentInfo have published a useful article signposting a number of online sources of mental health support for children – more information here. They also have an article on how to safely celebrate special occasions during lockdown here.
Bereavement charity Stand-by-Me offers information, advice and support to help children, young people and their families living in North Hertfordshire & Stevenage understand and manage their grief.
Website: http://www.stand-by-me.org.uk/